As we prepare for the 2019 RUMBLE, get to know the bands. We sent out a list of questions and asked the bands to pick 5.
RUMBLE Q+A: JAKALS
1] This year has been heavy on band biopics. Who'd play your band members in the movie?

Bredon – Ted Danson
Jack – Ben Stiller
Zach – Jason Bateman
Katie – Abbi Jacobson from Broad City or Ellen Page
Teryn – Matt LeBlanc or Kevin Smith
Barney – Michael Cera
2] What are our bad habits?
— Jack fidgets a lot
— Katie changes her mind a lot
— Zach drinks a lot of coffee
— Barney lacks spatial awareness and therefore he is always in the way
— Teryn has a job he likes
— Bredon keeps going back to St. Louis
3] Who among the band is the one you can call in an emergency? Who is most apt to forget to show up?
You can call Bredon in an emergency
Teryn and Katie are most likely to forget to show up but for different reasons
4] Name your superpower.
Packing 5 people, Barney, and all our gear into a Toyota Camry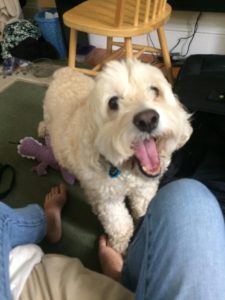 5] What's a guilty pleasure of yours?
Zach — Watching The Bachelor
Jack – Coldplay
Katie – Picking off Barney's eye boogers (To be clear, Barney is my dog)
Bredon – Eating ice cream while watching MMA fights
Teryn – Finishing other people's food
Barney – stealing licks from people and other dogs and sensually licking people's wrists
(I want to meet Barney)
More about Jakals on their RUMBLE page
Jakals play preliminary night 6, Saturday 4/13 [Event Link]